A new private tour guide in Hakone has joined us. His name is Hide.
While he can guide in Hakone, he can also guide in Tokyo and Kamakura.
We introduce his self-introduction below.
——————————————
Dear valued customers,
Thank you for looking in at my page. As a Nationwide Licensed Tour Guide, I would like to offer you / your love ones wide range of private tours, from standardized tourist attractions to fully customized explorations at your special interests.
Based on some over 30 years' career as an international financial businessperson, I knew a lot of international people have an interictal curiosity about Japan. I brought up in Tokyo but I am familier with Kyoto and Nara 'cause my granddad / grandma lives in the western part of Japan. I would like to help you to create once-in-a-lifetime experience in my homeland.
I can't wait to see you!
——————————————
Also, his Hakone Tour visit to many sights. For example, Hakone Shrine and Hakone checkpoint.
It is first time tour to visit Hakone Shrine and Hakone checkpoint in our website.
We recommend this tour , as tour fee is also reasonable.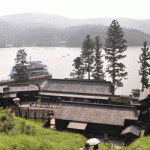 2018/02/02
Posted by Nippon PLUS