We have tour guides who can guide Mount Fuji tour.
Mount Fuji tour in our website, it does not climb directly at Mount Fuji. You can see beautifui Mount Fuji from Kawaguchiko area.
If you book Mount Fuji tour, there are 2 ways.
The one is that you go to Kawaguchiko area by yourself and meet a guide.
From Tokyo to Kawaguchiko area, we recommend to use high-way bus.There are bus terminal in near Tokyo and Shinjyuku station.
It will take around 2 hours(from Shinjyuku) to 2.5 hours(from Tokyo).
In this case, we have two guides(Tomoko and Chinami).
Tomoko's tour is popular to choose favorite destination
The tour title is The Great View of MtFuji.
For this tour, you are able to choose 2 to 3 of the following destinations.
●Kachi Kachi Yama Ropeway
●Itchiku Kubota Art Museum
●Kitaguchi Hongu Sengen Shrine
●Ide Sake Brewery
Chinami's tour is popular to visit some caves.
Especially in summer, you can feel coolness in ice cave.
The tour title is Private Walking Tour in Aokigahara-The Sea of Tree and Exploring Caves.
For this tour, you are able to choose 2 to 3 of the following destinations.
1 Wind cave
2 Ice cave
3 Ryugu Doketsu(lave cave)
4 Bat cave(except winter)
5 Lake Saiko
The other is that a guide will pick up you at your staying hotel.
The guide is Mura-san.
And tour title is Exciting Mt. Fuji One Day Tour from Tokyo.
This tour will visit next 4 destinations.
– Arakurayama Sengen Park
– Mt. Kachikachi Ropeway
– Oshino Hakkai
– Cruising at Lake Kawaguchi
The view from Arakurayama Sengen Park is very beautiful,known as a famous spots of cherry blossoms.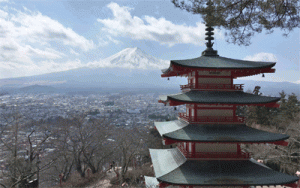 2018/07/09
Posted by Nippon PLUS