Yesterday, our tour has been done by our guide "Mura-san".
All places were crowded by Sunday.
Guests were 4 people family from USA, they have enjoyed this tour.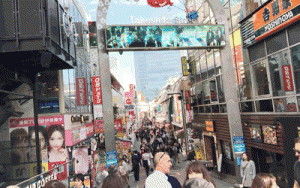 They visited Asakusa, Shinjyuku-gyoen, Harajyuku(Takeshita street) and Shibuya.
This tour is Exciting One Day Tour in Tokyo.
You can visit several places in Tokyo where you can experience traditional and modern Japan in one day. Please select some places from the list and I will propose a one-day tour itinerary for you.
This tour is so flexible that we can change our itinerary depending on your interests.
If you are Muslim, we can visit Tokyo Camii mosque and Halal restaurant.
You can choose 3 to 4 visiting spots below.
1. Asakusa area
2. Tokyo Sky Tree
3. Tsukiji area(outer market)
4. Shinjuku area
5. Harajuku area
6. Shibuya area
7. Akihabara
8. Ueno area
9. Tokyo Camii
2018/10/08
Posted by Nippon PLUS