We renewed our Website on December 18.
You can search private tour by tour date,area,guests and book more easily.
In addition, you can see customer review each tour and find it informative.
Over the next year, we will enrich a website by adding new tour guides and tours.
We look forward to receiving future orders from you.
Our website here⇒Nippon PLUS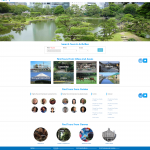 2017/12/21
Posted by Nippon PLUS