Today, I went to Ueno as I have a thing to do. And after lunch, I viewed 2 trees of cherry blossom.
Many foreign tourists were taking a photo in front of cherry blossoms.  Also, some people took selfie stick with a smartphone.
Cherry blossoms I viewed today is a early cherry blossoms, it is different from Someiyoshino(Prunus yedoensis).
It will take time until full bloom of Someiyoshino.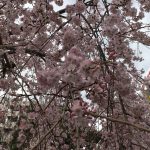 In Tokyo, there are many places to view cherry blossoms.
If you can see beautiful cherry blossoms, please search private tour in Tokyo.
2018/03/18
Posted by Nippon PLUS