If you would like to view Mt.Fuji from Tokyo, we recommend this tour.
You will visit three viewing spots in this tour.
1)Arakurayama Sengen Park
2)Mt. Kachikachi Ropeway or Cruising at Lake Kawaguchi
3)Oshino Hakkai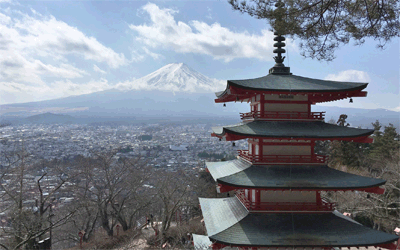 Also, highway bus from Shinjuku to Shinyoshida(Kawaguchiko area) about 90 minutes.
Basic itinerary is as follows:
8:00 Meet at your Hotel and move to Shinjuku by Subway.
8:55 Highway bus from Shinjuku to Shinyoshida about 90 minutes.
Climb up to Arakurayama Sengen Park. You can take a picture of Mt. Fuji with five-story pagoda. Please be noted that we have to climb up 398 stairs.

11:52 Train from Shimoyoshida to Lake Kawaguchi about 15 minutes.

Mt. Kachikachi Ropeway. At the height of 1,075 meters, you can see a panoramic view of Mount Fuji and Lake Kawaguchi. Or enjoy Cruising at Lake Kawaguchi about 20 minutes.

15:00 Bus from Lake Kawaguchi to Oshino Hakkai about 25 minutes.

Strolling Oshino Hakkai. It's a set of eight ponds with very pure snow melt water. You can take a picture of Mt.Fuji with traditional Japanese houses.

16:40 Highway bus from Oshino Hakkai to Shinjuku.
18:55 Arrive at Shinjuku and move back to your hotel.

The above is the basic itinerary.
As my tour is so flexible, we can change our destinations to the following places when we can't see Mt. Fuji due to a bad weather.
– Kawaguchiko Music Forest Museum. You can enjoy several kinds of mini concerts.
– Ichiku Kubota Art Museum. You can appreciate a beautiful Kimono and Japanese garden.
– Narusawa Ice Cave and Fugaku Wind Cave
– Oshino Ninja Village
We are looking forward to your booking.
2019/01/24
Posted by Nippon PLUS